BIOGRAPHY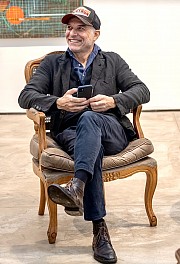 Born in 1957, Rio de Janeiro, Brazil
The language Bechara has developed uses diverse methods and materials, which have led to innovative results in his paintings.

Instead of white canvas, he uses tarpaulins affected by accidents and activities of a universe that has little in common with the traditional trade of an artist. Rather than through the use of colored pigments and brushes, his chromatic effects are achieved by rusting material corroded by the action of time.
This experimental character, together with considerable aesthetic discipline, can also be seen in his more recent work which goes beyond painting.